The Best CBD Gummies for Pain, Anxiety, and Sleep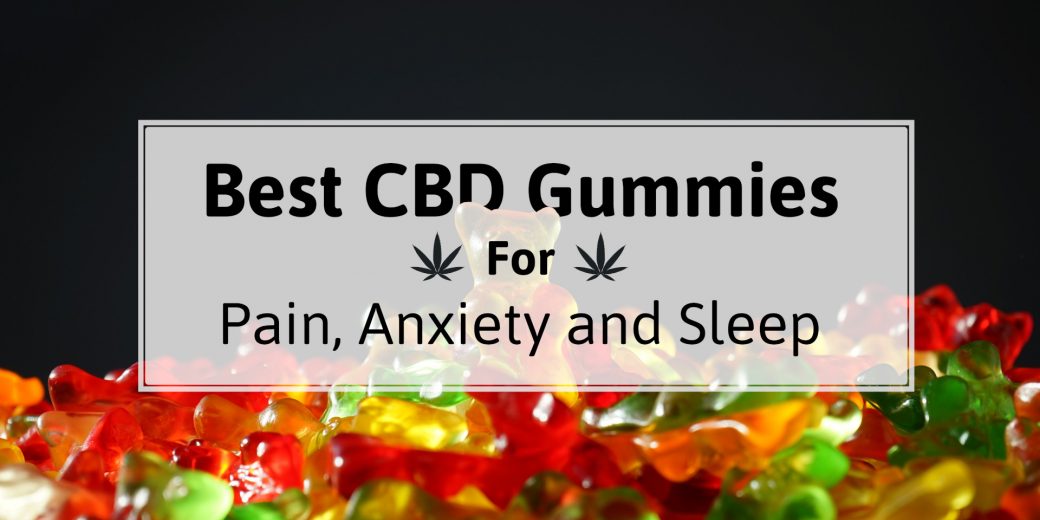 When I first found out I was dealing with Ankylosing Spondylitis, I had no idea how I was going to cope.
After tons and tons of research, I decided to give CBD gummies a try .
If you suffer from pain, anxiety, or insomnia, I will tell you all you need to know about CBD gummies. I will also show you the best products I've discovered throughout my journey.
What is CBD?
CBD has spiked in popularity and proliferated over the last few years – but what is it exactly? If you don't know much about CBD, you may think it's the same thing as marijuana, which is a common misconception.
CBD stands for cannabidiol, which is a chemical compound found in the cannabis plant.
You should not confuse CBD with THC. They both come from the same plant, but they have different properties. THC is the chemical in the cannabis plant that will get you "high," while CBD will not alter your state of mind.
Doctors say
that only about 5% of people feel any alteration after taking CBD.
What are the Benefits of CBD?
Many CBD products claim to treat issues such as:
Chronic Pain
Depression
Epilepsy
Insomnia
Muscle Spasms
Glaucoma
Loss of Appetite
Acne
Parkinson's Disease
Inflammation
Stress
Cancer
The FDA hasn't approved many CBD products, but there is promising research about their benefits. There is also a lot of personal stories going around to support these claims.
The FDA recently approved a drug called Epidiolex that's used to treat seizures due to epilepsy. They make this drug with a purified form of CBD oil, and use it on patients as young as two years old.
Experimental research has also shown positive results in these areas:
Anxiety disorders
Addiction
Heart health
Is CBD Harmful?
Though there are many benefits to using CBD, there are some risks that you should be aware of. CBD can cause side effects like:
Diarrhea
Change in appetite
Drowsiness
Fatigue
Dry mouth
Aside from these, CBD, in most cases, has proven to be safe.
Your doctor may caution you against using CBD if you're taking certain other medications. For example, CBD may have adverse interactions with blood thinners or contraceptive pills.
You should also take caution when buying products. Some unregulated CBD products sold online have proven to contain
less CBD than advertised.
Other Helpful Things to Know
When I started researching
CBD gummies
, I found it confusing that products display the amount of CBD in the entire package, and not in each pill.
So, when you look at a bottle of 30 CBD gummies, and it says 300mg, know that that means there are 10mg of CBD in each gummy – not 300.
It's also helpful to note that CBD is not federally illegal. It is legal to sell or buy CBD products, as long as they contain no more than .3% THC. Yet, there are still a few states that require you to have a prescription to buy CBD products. You'll want to make sure you check with your local laws to be sure.
Finally, you might be wondering how much CBD you should ingest per day.
The dosage varies for each individual, but most gummies will have anywhere from 5mg to 30mg of CBD each. Some experts and companies will tell you to start with a lower dosage and work your way up as needed.
For example, you can buy a bottle of gummies that contain 5mg each and start with one per day. If you find that isn't working for you, then you can try taking two, three, or even four a day. At that point, you can consider buying higher dosages for your next bottle.
How Do CBD Gummies Work?
CBD gummies work just like any other edible form of CBD – let's discuss how these works.
CBD products work by operating on the same receptors that your endocannabinoid system affect. This system of receptors helps regulate things like your mood, sleep, and pain. CBD travels through the bloodstream to make contact with these receptors in your brain, thus affecting the same areas that they do.
Now, the big difference between whether in ingest CBD or inhale it is the speed at which it reaches the brain. It also has an impact on how effective the product is.
When you inhale CBD, it reaches the brain quickly. However, when you ingest a product containing CBD, you have to wait for it to absorb into your bloodstream from your gut. During this process, the CBD gets metabolized in your liver, where it loses some of its effectiveness.
If you're looking for the most effective and quickest method of CBD use, consuming gummies may not be your best bet. If you're okay with waiting and would rather not smoke or inhale something, you'll be fine with the gummies.
But you may have to take a bigger doses to make up for what's lost in the process.
The Best CBD Gummy Products
In my experience, these are all awesome products that showcase some solid results. Read through to see if your next purchase is here.
CBDistillery sells high-quality, 100% natural CBD products. The plain and simple natural farming process they use is also GMO-free.
Their gummies contain 30mg of CBD formulated into a sweet taste. Not only that, but you can buy this formula in a daytime or nighttime version. The nighttime has one difference – an added 2mg of melatonin to help you get a great night of restful sleep.
The U.S. Hemp Authority has certified their company, and third-party labs test all their products for potency and purity. This means you don't get any of the extra crap you may find in other shops products.
---
FabCBD takes a no-nonsense approach to their CBD gummies. With their chews, you don't get fancy, over-the-top packaging with bold statements and flashy designs; you get the facts first. Their products focus on simplicity, which is all you need in a CBD gummy.
These chews are packed with 25mg of CBD a piece, along with a fun, fruity flavor. Non-GMO and completely vegan, everyone can enjoy these gummies without worry. Their organic process leaves their gummies free of any additives or extras.
With FabCBD Chews, you're getting a clean and effective product specifically made to deliver the perfect serving size.
The company also promises that you're not getting any THC along with your CBD, so you shouldn't have any problems with psychoactive side effects.
---
These CBD Gummies by PlusCBD use the company's unique Gold Formula. Their hemp extract goes through a vigorous process of being decarboxylated and distilled.
PlusCBD says that this maximizes the nutrients gained from the hemp plant, making their formula better than the others.
The downside to this product is that there is only 5mg of CBD per serving, whereas other formulas contain as much as 50mg. However, if you're new to the product or don't feel you need a large amount of CBD, then Plus CBD Gummies are a great choice for you.
This company maintains integrity and purity by offering a fully traceable Seed to Shelf process. They never use artificial sweeteners, flavors, or colors, and all their products are non-GMO and gluten-free.
---
CbdMD Gummies are an awesome way to get relief naturally and easily. Rather than being coat with CBD, CbdMD CBD Gummies are infused with their CBD dosage to ensure precision and the perfect measurement.
Each bottle of cbdMD's gummies includes a variety of flavors like tropical, orange, strawberry, and mixed berry. You get your choice of flavor every day, instead of using one of the more boring methods to get your CBD intake.
CbdMD uses U.S.-grown hemp only, ensuring there are no GMOs or any other chemicals involved in the process. Before selling, their products are tested in a third-party lab to ensure quality, safety, and absence of THC.
You can get these CBD gummies in doses of 10mg or 25mg per gummy. They're made to be used safely for beginners – just start with a lower dose and work your way up if needed.
---
CBDFX makes gummies with a broad-spectrum formula.
This means that they include all the natural compounds that come from the cannabis plant - including THC.
A theory called the entourage effect claims that broad-spectrums offer better relief than isolates
While the amount of THC is too low to have any effect on you, it shows up on drug tests.
These gummies are:
Vegan
All-natural
Non-GMO ingredients
Without any artificial flavoring, coloring, or chemicals.
CBDFX offers its Hemp Gummies in a wide range of options as well. You can check out their CBD Melatonin Gummies and their CBD Gummies with Turmeric and Spirulina for other added benefits. These along with the normal Hemp Gummies come with 10mg of CBD per serving.
---
Final Thoughts
This list above is full of high-quality products that have delivered excellent results for myself. Personally, I don't think you can go wrong, choosing any of them.
My favorite is CBDistillery CBD Gummies. I love their nighttime formula with the added Melatonin. It really helped enhance my sleep quality.
If you have any question, or if you'd like to recommend another brand, feel free to comment below.